Friday Flowerblogging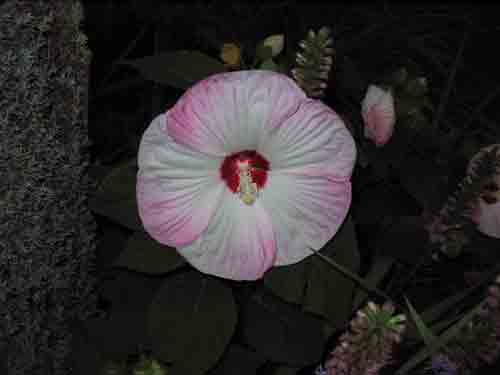 Hybiscus blooming in south garden.
I got home around 5. I stopped at a roadside stand and got some corn on the cob and peaches. I had the corn for dinner. I was rather upset by a large enveloped stuffed in my door from the IRS. It had the company name on it and my name. No address and no postage. Someone hand delivered it. It has they have no record of a couple forms. They have been filed and I have sent copies and my accountant sent copies at least 6 times. I looked all over for the darn forms and can't find them. I remember putting somewhere just for this purpose. My accountant has copies so I'll have to contact him to take care of the problem. The IRS lady left me two copies of her letter. After freaking out, I had my dinner and then cut the grass. I figured I need to water tomorrow starting very early and wouldn't be able to cut the grass and water at the same time. When I walked out the door, it started to spritz. I continued with my grass cutting chore and the rain didn't amount to anything. It's a good thing I kept on.
News from the Vorlon Wife.
Posted by tedkarol at August 15, 2008 10:16 PM