Friday Flowerblogging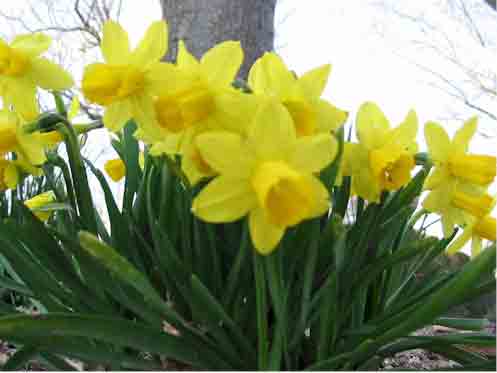 The daffodils are in full bloom. Trees are flowering and the grass in growing. Some people have cut their grass already. It evens it off. I have a few onion grasses sticking up but I'll either ignore them or take the weed wacker to them. I don't feel like starting grass cutting yet. The hedge has sprouted green leaf buds. I dread having to deal with that. It needs a good cut back from the damage the heavy snow did. If I don't sell this house soon, I'll either have to hire a professional to shape it up or rent a powerful gas hedge trimmer. I don't even know when I'll get the chance to do yard work. Rain is forcast throughout the week and I need to go to the mobile home and water my plants. I'll have to show my niece how to turn the water on and off and maybe she can water my plants when I can't get there.
I hope someone comes along soon and really likes this house. I'm having a lot of showing but no offers.
News from the Vorlon Wife.
Posted by tedkarol at March 26, 2010 8:43 AM