Thursday, March 17, 2011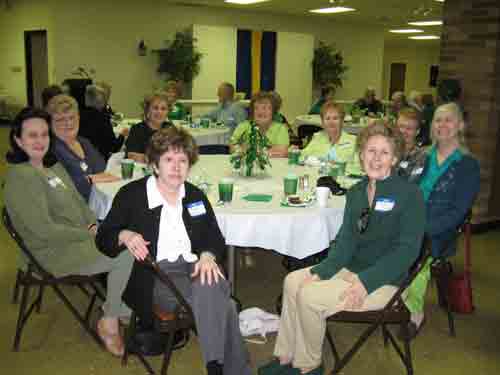 Today, I had lunch with my friends at Dottie's church. From the left are Dottie's friends and neighbors. In the center in light green is Dottie's sister, Annie, next is Dottie's twin sister, Rosemary, next is Dottie's sister, Alberta, tucked between me and Dottie on the right. Since it was St. Partick's Day, the theme was of course, St. Patrick's Day. Most people were in green. I grew up with the four sisters. Alberta lives about 25 minutes south of me. Rosie and Dottie have summer places in the park where Alberta lives. It was good to get together with friends.
I went to the Target store near Dottie's church. I had to get a few gifts. I'm going to my cousin's fiance's bridal shower on Sunday. I also had to get two birthday gifts; one for Ted's grandniece and the other for my grandnephew.
The weather was great today. It felt so good to not wear a coat. Tomorrow is supposed to be even better. Yea Spring!
News from the Vorlon Wife.
Posted by tedkarol at March 17, 2011 10:16 PM