Thursday, September 1, 2011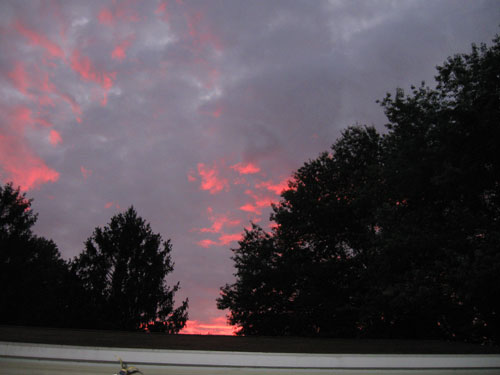 A beautiful sunrise on July 28, 2011
Seems odd. It feels like summer is just beginning instead of being over. I didn't get to the shore this year. Maybe I'll still get a chance. Don and I went thinking of going last weekend. It's a good thing we didn't because the hurricane came. My neighbors were vacationing in Atlantic City and were ordered to evacuate. Their house was damaged by a tree limb falling on it. The siding was damaged but it wasn't too bad.
I am wondering how my friends Phyllis and Len are doing. The last I read on their blog they were up in New York State with their 5th Wheeler. I hope they didn't have any problems with Irene.
I have a craving for winter foods such as chilli, pork and Kraut, pot roast, roasted sweet potatoes and so forth.
The past couple days, I was unpacking all the things I had packed away for Irene. I had lawn furniture crammed into the shed and all my photos and paintings were put in the closets as they are all on inside walls.
I just got back from shopping in Elkton. I went to Walgreens, Auto Zone, K-Mart, a new store called Dollar Tree Deals, the bank, and the Acme. I was just looking around in K-Mart and Deals.
Yesterday, I went to my Bible Study Class and did some wash. We are loosing a lot of high noon sun as my clothesline didn't get into the sun until around 1pm. It's dark at 6am and then again at 8pm. Fall is a wonderful season but it's short and leads into winter.
News from the Vorlon Wife.
Posted by tedkarol at September 1, 2011 11:29 AM