Barnstormin'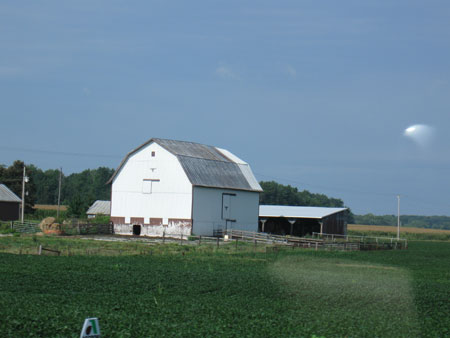 One of the barns along rural Michigan roads.
I got a lot accomplished this morning. I took everything I had stored under the daybed and the trundle bed and put the trundle bed down and under the daybed. Now I have room for my desk and Erin's desk as well as her rocking chair. I have no idea where I'm going to store the covers and pillows I that were on the trundle bed. Right now, they are stacked sky high on the daybed. The closets are full except for the Yellow room closet that will be used for Erin.
Danny got his bath this morning. Always such fun. I get in the walk in shower with him and hose him down, scrub on the shampoo, hose him off, smooth on the conditioner, and hose him off again. Then I set out to dry him off. He likes to rub his face in a towel. The first towel I use to dry him get soaking wet. I put a pad and towels on the bed so he can rub his face on them. Sometimes I use the hair dryer on him but in hot weather, I let him air dry. Then he gets brushed.
News from the Vorlon Wife.
Posted by tedkarol at September 5, 2011 10:24 AM