Barnstormin'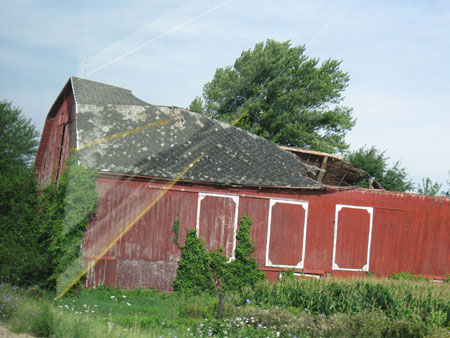 Michigan barn #26. It is unfortunate that so many barns are becoming a thing of the past. This barn is on route 66 near just south of Interstate 94.
I went to the Cecil County Choral Society last night. It was interesting. We didn't sing the words to the music but sang doo doo doo for all the notes. It forces you to read the music. I had piano lessons when I was a kid but had to relearn as I went along. My friend, Joan from chuch invited me to join. Another man, John from my church choir was there. I met a lot of new people and there were two Carols in the group.
I planted my third tree yesterday morning. I got done just in time before the rain came. I'll have to take a picture of my little trees. I also transplanted a holly tree that was growing next to my steps. I put it in the back yard next to the stream and woods.
Keep Ted's father in your prayers. He is having some health problems and is in the hospital.
News from the Vorlon Wife.
Posted by tedkarol at September 21, 2011 4:07 PM