Barnstormin'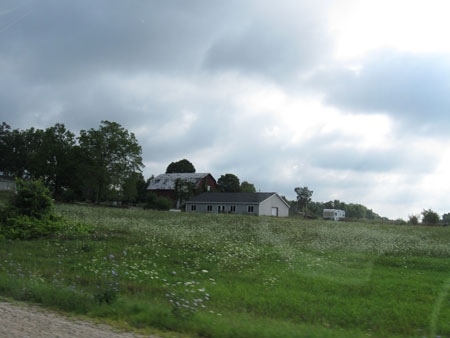 Michigan barn #51
I have been busy this week. I took my younger brother to the doctor's on Monday to go over the results of his tests. He goes into the hospital this morning. I will be going up there to take him; I'll leave in a couple hours. Danny needed some shots at the Vet's so we went to Middletown on Tuesday after I went to exercise class. We did some shopping while we were there. When we got back, Erin and I went to the Canal museum in CC to take some photos for her article in Examiner.com. She has a job writing about the history in this area. Go to examiner.com and type in the search area: A Brief History of Chesapeake City.
I went to the Choral Society practice Tuesday night. It is difficult learning the songs. Some have a lot of very high notes. Joan said her lungs hurt from all the singing. I felt that way, too.
Yesterday, I went to Bible study and then we ventured up to Boscov's and the Burlington Coat Factory. Boscov's had some nice coats but they were expensive. Erin got one at Burlington. I don't think she realizes how cold it can get here. Of course, they don't make coats that keep you warm unless you get one at LL Bean or The Land's End or one like they sell there. Many people go around with thin little coats that have open necks, no hat, no scarf and gloves that I wear when it's around 40 or 50 degrees. They don't cut it when it's 30 degrees and a wind that cuts through everything. We may be going back after Christmas when everything is on sale. Erin got a pea coat with a hood. The hood will come in handy when there is a biting wind.
I have to pack up and get ready to leave.
Say some prayers for my brother, Don that his surgery goes well.
News from the Vorlon Wife
Posted by tedkarol at October 27, 2011 4:48 AM