Steeplechasin'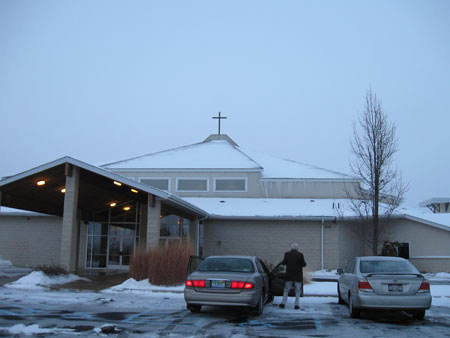 This is the church where my sister-in-law's memorial service was held last year. Ted's father is getting out of his car.
I went to Don's yesterday and helped take down his tree. We watched the San Francisco - Saints game as we were putting things away. Danny was on his worst behavior barking at the television and getting in the way of us taking down the tree. If he doesn't have my attention he makes a nuisance of himself. I finally put him out on the porch so we could have some peace. He seemed to like it out there as he didn't scratch on the door to get in. He likes to explore new places.
This morning, I went to church and Sunday School. I was going to go to the supermarket but it is bitter cold out. Danny loves the cold weather and wants to stay out but my fingers get cold. I'll have to dig out my ski mittens.
News from the Vorlon Wife.
Posted by tedkarol at January 15, 2012 2:55 PM