Barnstormin'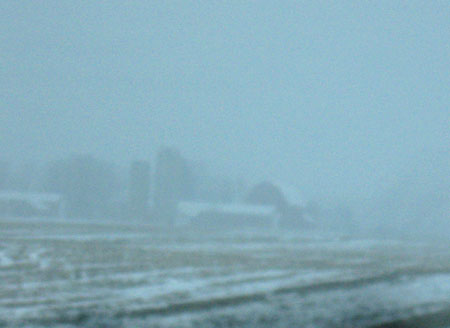 Michigan winter barn #9 taken January 2011 in or near Lake Odessa.
It was cold today. It stayed in the 30's with a cold wind. It was bright and sunny but I got chilled standing on my deck without my coat. The carpenter wanted to show me how he was going to put the gate on. It is finished except for the gate and the closing in of the sides of the steps. The wood is pressure treated but is very light in color. I will get some redwood stain to paint it and then paint it with some sealer. I can't wait to sit out there and have my coffee or ice tea in the summer.
I stayed inside most of today. I worked on my computer and shedded old checks from our business. I still have move to do.
At 5pm, I went to my Yoga class then came home and had some dinner. My pork roast was not done when I cooked it on Sunday. I sliced some off and cooked it in the Microwave. I put it back in the oven tonight but it still is not done. I'll have to roast it some more tomorrow.
News from the Vorlon Wife.
Posted by tedkarol at January 30, 2012 10:20 PM