Friday Flower Bloggin'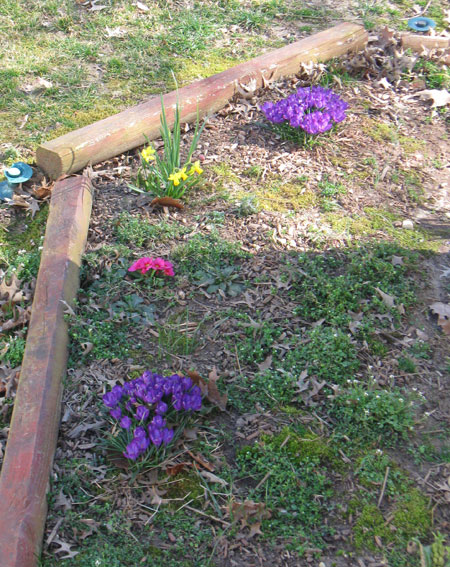 Early spring flowers in my southeast garden. Crocuses, te'te tet daffodils, and hardy primroses.
I had lunch with my friends, all sisters, Dottie, Rosie, and Alberta. I grew up with them. They lived two doors from us. The luncheon was at Dottie's church. Last year, the luncheon was a St. Patty's theme but this year it was a sports theme. I wore a jogging outfit and so did Dottie. Alberta forgot her St. Patty's outfit last year so she made sure she wore it this year. Dottie forgot to tell her it was a sports theme. It was a nice luncheon and there was enough roast beef left over so they sold it to us for $2.00 a container. It's a good thing because I didn't have anything to make for dinner.
The homeless shelter is being held at our church this week so there was no Fellowship dinner. I went to Bible study and then choir practice. One of the teenage girls who lives down the street from me joined our choir. I took her home so her grandmother didn't have to come back to get her. Her grandmother does a lot of the cooking for the fellowship dinners and last night she cooked for the homeless shelter.
The tree that has daisey like flowers is called a Star Magnolia. I saw one in my friend Joan's yard when we were going to Choral Society practice. Joan's family owns a nursery so she knew right away what it was. Her tree is quite large as it is an old tree. I will try to get a photo of John and Carol's tree. It is in full bloom now.
News from the Vorlon Wife.
Posted by tedkarol at March 16, 2012 5:57 AM