Friday Flower Bloggin'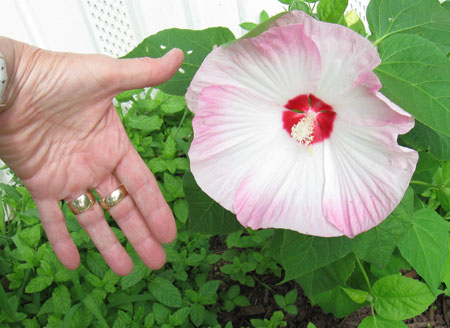 My hybiscus. I thought I had lost it over the winter but it came up later than the other flowers. I almost pulled it out thinking it was a weed. Ted and I bought this plant at a farm market in Vineland. It's flowers only last one day but has several buds. This was taken on Tuesday and the flower that bloomed yesterday was even bigger than the one here.
There are always new critters here. Yesterday, I saw what I believe was a salamander. It looked like a tiny little snake with legs. By the time I went in and brought out the camera, it was gone. I have lots of little frogs or toads hopping around. I'll have to dig out my clay flowerpots and make some toad houses. I carefully notch out a piece at the top for a door, turn the pot upside down and place it on the ground under a bush or shrub.
News from the Vorlon Wife.

Posted by tedkarol at July 27, 2012 6:09 AM