Friday Flower Bloggin'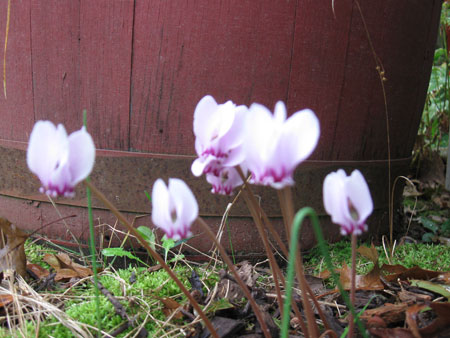 The cyclamen pops out in the fall. The flowers pop out first and then the leaves come up and stay most of the winter. This is a hardy species and blooms in the shade. I may have it in too much shade; I'll have to move it. I brought it from Vineland. It was under an azalea bush so maybe it's not in too much shade. It's on the north side of my shed. It always surprizes me when it comes up and what a lovely surprise it is.
When got another half inch of rain overnight so I planted one of my little Alberta Spruce trees. I have two more to go and I have to move a red bud tree that popped two feet out of the ground this year. It is too close to my Alberta Spruce that is on the side of the east walk. It also hangs over the stepping stones I put in for the neighbor children to cross to their grandmother's house.
I didn't do much today. I took some box top labels over to my nephew's wife. The children are saving them for school. I had a whold bunch saved from when I lived in Vineland. I would give them to Sonia who worked for us. Her son needed them for school. I'm glad I kept them. Ryleigh glued them on a sheet of paper that had squares marked on them. The schools purchase things with them.
Now, I need to find someone who collects the aluminum tabs from the soda cans and I need to take the plastic caps to my friend who collects them. Ronald McDonald House uses the aluminum tabs. The tabs are pure aluminum while the can is not.
I made a salmon loaf for dinner.
News from the Vorlon Wife.
Posted by tedkarol at September 29, 2012 5:29 AM