Steeplechasin'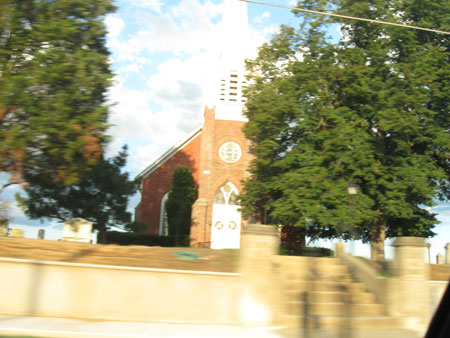 This is a church in Galena. I believe it is of the Protestant Denomination, probably Methodist as most towns in this area have a Methodist Church. There is also a Roman Catholic Church in Galena that I have posted last year.
I went to church and Sunday School this morning and didn't do much this afternoon. My niece called and said they were going to her brother-in-law's for the afternoon so they won't be back for dinner. We usually go to the Asian Fusion Restaurant on Sunday Evening. I'm glad I didn't freeze the rest of my salmon loaf. I'll have that for dinner.
I talked to Ted's mother this afternoon. She was sorting through her clothes to take to her church rumage sale. I went with her to the sale last year while I was staying with her after Father's memorial service. This must have been a difficult time of year for her. I wish I could have gone out there to visit. I was hoping to drive out there with my friend, Dottie, but Dottie has had some health problems with her back. I didn't see Dottie all summer. I have talked to her on the phone but that's not the same as seeing her. I hope she has fully recovered.
News from the Vorlon Wife.
Posted by tedkarol at September 30, 2012 4:58 PM