sunday, January 20, 2013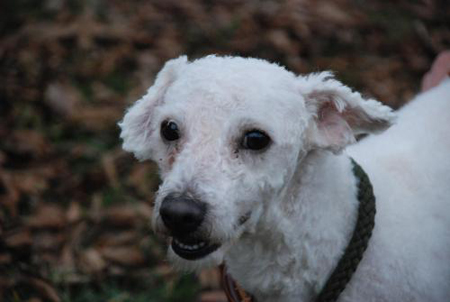 Here is a photo of Sparky. His one ear is sticking out sideways like Danny's. I'll have to take a better look. When I was there, his ears seemed like my nephew's malteze dog.
I went to church and Sunday School this morning. Cheryl is sick so they were not at the second service. When I got home, I went for a walk and met a neighbor boy, Trenton, who walked with me. I told him about Danny and my applying for a new dog. He said they have 3 pets; two dogs and a rabbit. He just got his hunting license last fall and he told me about his bow and arrow. He is a real nice boy of about 10 years old. We go to the same church and he is always willing to help out.
I made chili with rice last night for dinner and had some for lunch and will have some more for dinner. I have a quick easy recipe. I use Salsa and mix in some ground meat and kidney beans. One time I felt like having chili on a cold winter day but had no onions or peppers. I saw the jar of salsa on the shelf and figured it had onions and peppers in it so I gave it a try. It is quite tasty and it works for me.
I have a church photo on my camera but forgot to download it. I'll use it next week.
News from the Vorlon Wife.
Posted by tedkarol at January 20, 2013 1:51 PM