Steeplechasin'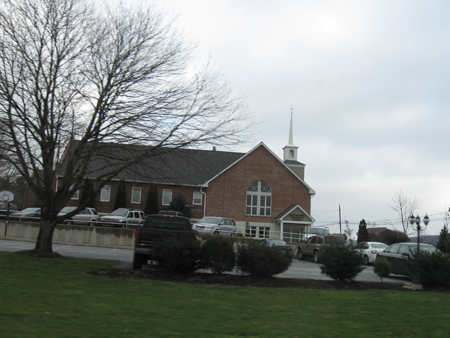 The photo of this church was taken Christmas Day on our way to my niece Tina's. I don't remember where it was but somewhere in Pennsylvania, north of Maryland and south of Coatesville, PA. I forgot I had taken these photos.
I went to church this morning and it was the first time I left Sparky on his own in the house. While I was scraping the ice off the car, he had jumped up on the top of my love seat and I was afraid he would fall off the back and get hurt as it wasn't against the wall but out at an angle. I put cushions up so he couldn't jump on it. I worried the whole time I was in church. Ursula wasn't there so I had to take care of the offering with Tucker. Kim, the financial secretary was in the office so she helped Tucker and I was able to go home. Sparky met me at the door and I saw the cushions on the floor along with the afkan. What a little turkey. I pushed the love seat up against the shelf so he wouldn't fall off the back. I think he is part Siamese cat. He climbs up on the arm of my sofa sniffing for food as I have to keep my coffee cup up there. I saw he had knocked over my grandmother's photo. I am going to have to child proof my house or rather dog proof it.
He really gives me a workout on our walks. I have shin splints or at least, my shins are sore. He goes full steam ahead. I don't have to run but I have to walk a fast pace. It should get me in shape.
I talked to my brother, Don and Cheryl and Ed stopped in for a few minutes with Ethan. Sparky seemed to like Ed and Ethan. He kept sniffing them. He liked Cheryl, too but he kept going to Ed and Ethan. Maybe he could smell their dog, Belle on them more than or Cheryl. They were on their way to my nephew, Rick's so I had them take the dog cage back because Sparky can't fit in it with the cone on his head.
Sparky met a couple more neighbors today on our walks. My friend, John was out. Danny liked John and his wife Carol. Sparky liked him, too. He also met Marlene, he petted him maybe a little too roughly and he growled at her. She didn't know why he had the cone on his head so maybe it bothered his stitches. She told him she was sorry and he seemed to be OK. Then he met a teenage girl named Jamey and liked her. Jamey gave a little talk in church today as part of her confirmation training. She is cousin to the boy named Trenton. She and her sister were adopted by her grandmother and the three children live with their grandmother and Trenton's dad.
It looks like it's dinner time.
News from the Vorlon Wife.
Posted by tedkarol at January 27, 2013 5:04 PM