Friday Flowerbloggin'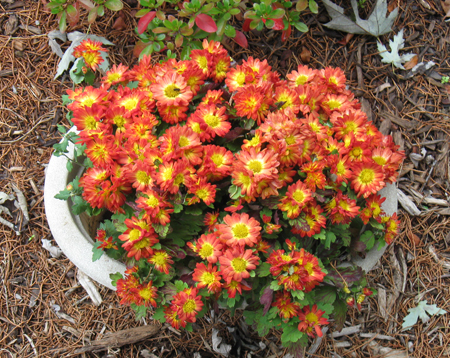 Orange mums. One of the mums I bought in October. I only have a few yellow ones left blooming. The others are done.'
I went to the Verizon store this morning. My new tablet could not connect to the internet. I thought maybe it needed to be charged so I charged it and it still wouldn't work. Three people in the store fiddled with it and then they tried a new SIm or Sym chip. That cured the problem. The tablet has a lot of features I had on my Palm. I just need to load all my information in it.
When I got back, I went to the church and the secretary ran my labels through the copy machine as my desktop is down and I can't print my Christmas card labels. I have over 100 cards on my list so writing all the addresses by hand would be time consuming. Also, the labels are my list. I had a copy of the labels printed onto plain paper to use as my list. Luckily, I still had it and was able to take the label paper and my list and run them through the copy machine.
When I got done that, I helped the ladies decorate the church.
I came home and had some lunch. I did a couple loads of wash. I didn't go for my walk today; I didn't even get my mail at the mailbox. I got some Christmas decorations out of the shed. I put a couple more wreaths on the windows and one on the fence. There were 4 in a long box in the back of the shed. I got out the trees and found I have to get a white vinyl table cloth to put under my large tree. I put that down to catch all the artificial snow that I throw on the tree. I got the snow earlier as there is never any left after Black Friday.
I went back to the church as I noticed no one had signed up for the clean up crew for the homeless shelter. I got there early and started washing up the pans as they finished with them. The St. Augustine's Episcopal Church cooked the dinner. The Pastor, Charlotte, and I were on clean up duty. They made a nice dinner of ham, carrots, peas, macaroni & cheese, and green bean casserole with rolls. There were plenty of desserts, too.
Many of the St. Augustine people helped with the dishes. We have a very fast dishwashing machine and it helped to have a lot of people drying so we were able to empty the tray and fill it back up again. I got home at 7;30.
News from the Vorlon Wife.
Posted by tedkarol on 11/30/12 9:59 PM |
Link
|
Enter your comments here (1)