Sunday September 28, 2014

Steeple Chasin'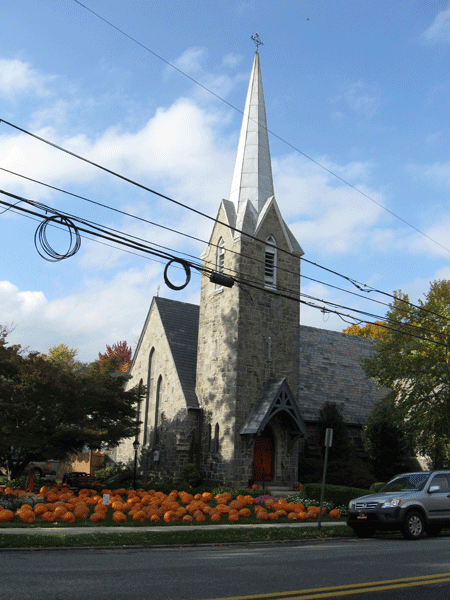 This is the Episcopal Church in Ridley Park, PA. All decked out with a pumpkin patch. I wonder if it was a fundraiser? It would be a good idea.
I went to church and sang in the choir. There were only a few of us in the choir but the hymn went well. We had trouble with it at practice but it turned out fine.
After church, I went to Redner's Supermarket to pick up a few things. I needed to take a dish to my nephew's for my brother's birthday. Their dog passed away a couple months ago so I decided to take Sparky for the kids to play with. My niece, Michelle said that my nephew, Sean was bringing their new dog. I was horrified when I saw their big German Shepard, Bubba, walking in and Sparky ran right up to him. Luckily, Bubba was raised with little dogs so he was friendly to Sparky. Sparky followed Bubba all around want to play with him. Sparky had a great time running around the yard chasing the children and other dogs. The little hot dog, Bentley chased after Sparky. Bubba was laying on the deck and Sparky jumped on his back and fell over the edge of the deck into a bramble of tomato plants. The deck was only about 18 inches where he fell off and the tomato plants broke his fall so he wasn't hurt. He was able to thread his way out of the tomato plants and proceeded to chase the dogs and children around the yard. Next, he came up on the deck and was licking up something someone spilled. The children yelled, "That's beer." Michelle pushed him away. Sparky reminds me of "Pecks Bad Boy" always getting into things. I have to follow him around to make sure he is behaving. Bentley likes to chase and catch balls. Sparky likes to chase anything that runs. The ball went into the pool and we thought Bentley was going to jump in after it. He is still a pup and Tina didn't know if he could swim or not. Anyway, Bentley was able to grab the ball from the side and didn't have to go into the water. Hot dogs have webbed feet so generally like to swim. Although Sparky is part poodle, he doesn't have webbed feet and doesn't care for the water.
We all had a nice time and Sparky was one tired dog when we got home.
News from the Vorlon Wife.

Posted by tedkarol on 09/29/14 6:06 AM |
Link
|
Enter your comments here (0)