First Trip to the Shore
I cut the hedge today. Then Karol had me trim back the Rhododendrons, our Burning Bushes, and the Azaleas. As long as I had the power cord strung across the yard, it seems a good time to use what I consider the most dangerous power tool in my house – my chain saw.
Chains saws are dangerous for several reasons. They cannot be guarded. Since they are primarily used to trim or cut trees, you are usually on a ladder in an awkward position. This only adds to the lethality. I had a friend fall 20 feet out of a tree he was trimming a few years ago. Although he survived his close encounter with the earth, he suffered multiple fractures and went through a lot a pain.
But I suffered no accidents and all the limbs feel where I wanted them. After that I cleaned up the yard, wound my power cord back up, took a bath and Karol and I made our first trip to the shore of the year.
The temperature while we were working got up to about 87°. When we got to Ocean City, it felt like it was in the low 70's with a stiff breeze blowing. Anyway, here's a picture of Karol with her back to the ocean.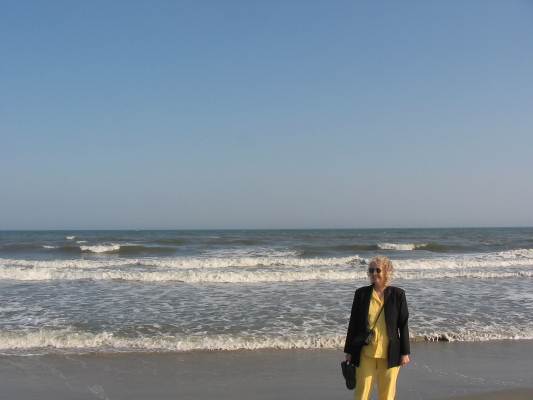 I took a short video of the ocean. If you have a high-speed connection, click here. If you're only on dial-up, then click here.
I recorded the video with my Canon A60 camera and then used Windows Movie Maker to give it to you in two versions. The Windows Movie Maker is a free download from Microsoft. I just need to learn how to hold the camera steadier.

Posted by Ted at May 15, 2004 8:33 PM