Sunday, August 31. 2008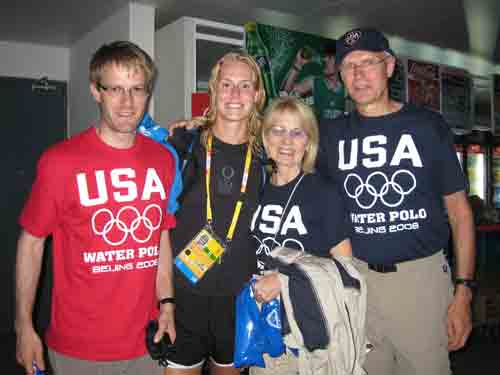 Congratulations to Betsey. Well done.
Pictured are Ted's nephew, David, his niece , our Olympic Silver Metal winner for Women's Water Polo, Betsey, Ted's sister-in-law, Mary and his brother, Tom. Betsey was surrounded by her family in China during the Olympic Games.
I cut the grass today and gave Danny a bath. Two more things crossed off my list. I had lunch with my friends from Church and got a head light replaced at Pep Boys. They didn't charge me for the labor. I don't think they knew what to charge. They had several huddles of discussions and one of the guys said, "Just have Kevin put it in." They didn't give me a bill for the labor. Sometimes you win.
My friends across the street have their moving van there. I guess Peter is taking some things down to Florida. Their settlement will be on the 15th. Hopefully, I'll see them next week before my vacation. They will be gone when I get back. I will miss them. Sonia their sister will be going to PA so we may be able to get together when I get moved over there.
Danny is playful after his bath. He runs around the house, grabbing his toy and shaking it like a dead rat. I'll walk him around 8:00 and then he's off to bed.
News from the Vorlon Wife.
Posted by tedkarol at August 31, 2008 7:28 PM