Sunday, November 29. 2009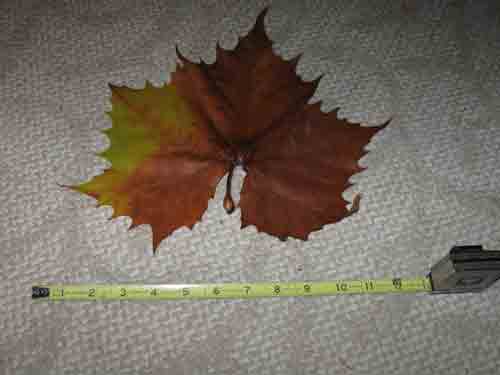 Look at the size of this Sycamore leaf. The tree is on the circle at the mobile home park. The sycamore leaves I have in Vineland are only a third that size. I found an even bigger leaf there.
I got the decorations out of the garage this morning. I loaded them in the car and drove them to the house as my garage is halfway down the block. I got ready and went to church. There were not many people attending. Some were away for the holiday weekend. After church, three of my lady friends and the minister went to lunch. I got the cod fish and ate the whole meal. I usually only eat half and have another meal. I don't know why I goobled it down.
I stopped in Walmart on the way home and got a pair of boots for $7.00. I needed a pair to walk Danny in the wet grass. My old boots were worn out and leaked. My feet were getting soaking wet. They will be one of my Christmas presents. I buy them for myself. Santa was in the restaurant so I gave him my list of gifts I want for Christmas.
When I got home, I put up the tree and started decorating it. Danny came down so I had to take him out for his walk. I then called Ted's parents and talked for a while. I was hoping to find a Christmas music special on the Television but no luck. I watched a couple Christmas movies on the Family Channel as I put the decorations on the tree. It was sad in a way as it was the tree we had in the lobby at our office. Sonia always helped me put up the tree and put the decorations on it. Decoration the tree brings back memories. This tree brought back memories of the office. How different things are now.
I hope to take my main tree to MD and put it up in the living room. That one has memories of Christmases of Ted and I. It has ornaments that people have given us over the years. I don't want to put too many decorations here in Vld but I don't have much furnature to put them on in MD. I don't have a fireplace to hang the stockings. I'll have to find a place to put them. I also put ornament and figurines on the mantle. I plan on getting an electric fireplace when I get this house sold. I have a lot on my list to get when I get this place sold.
I have much to do here and not much time to do it. I need to fix the faucets on the tub so I can get some water pressure to wash my hair. Danny needs a bath. I'll have to bathe him in the laundry tub. It has a hose on it. I need to run the mower over the flower beds and clean up the rest of the leaves. And I want to paint the cellar white to make it brighter and more appealing to the people looking at my house. They all seem to have a weird interest in the cellar. They want to put extra rooms down there. It doesn't lend itself to that but if it's brighter maybe it will help.
News from the Vorlon Wife.
Posted by tedkarol at November 29, 2009 10:12 PM