Barnstormin'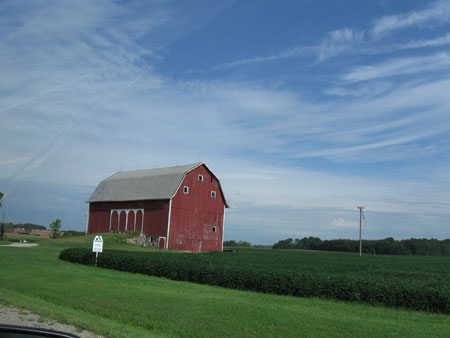 Michigan Barn #24. This barn belonged to Ted's parents. It was part of their farm and was located across the road from their main barn.
Yesterday was a busy day. I washed the towels and took some more things out of the yellow bedroom that I am preparing for my cousin Erin. I had to wait until 3pm to cut the grass because of the heavy dew we get here. It was still heavy and wet. I would have like to waited until 5pm but I had a 6pm meeting at the church. It was hot and I sweated profusely. It took me an hour to cut it; I grabbed some iced ted and then took Danny out for his walk. I was still hot and exhausted. I jumped in the shower and got ready for the meeting. I was gobbling down my dinner when I saw the message light blinking on my phone. Ted's mother had called on Sunday and I didn't get the message until Tuesday. We had a power outage on Sunday so I guess it messed up the phone messages. I also had a call from my nieces husband. He cooked a turkey and invited me over for dinner. Since I was in the middle of eating my dinner, I had to decline the offer. I also thought I had to be at the church at 6:00 so it wouldn't have worked for me. I went off to the church meeting and as I was sitting there listening to the discussion I realized I was at the wrong meeting. The pastor looked at me and said "Are you here for the Outreach Meeting? " "No," I said, "I think I'm at the wrong meeting. He said, "The Administration meeting is at 7pm." "Bummer." I thought. I stayed for the Outreach meeting and learned a lot about the programs they are planning for the fall. Sat. will be a movie under the stars at one of the ladies of the church's house. She lives next to a lake on Old Telegraph Rd. I pass by there on my way to Middletown, DE. Back Creek flows into the lake and then way down in back of the mobile home park and into the marina where it joins the canal.
The Administration meeting was very long. Besides the Finance Budget (which I was there for), they went over all the things there were coming up in the church for the fall season. I didn't get home until nine and then had to take Danny out. I was beat but slept good.
News from the Vorlon Wife.
Posted by tedkarol at September 14, 2011 8:06 AM