Friday Flower Bloggin'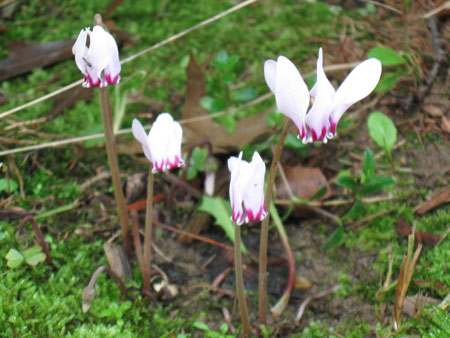 This cyclamen blooms in September and through the fall. It's flowers come up first before it's leaves. It blooms in the shade but last year, it had too much shade as I had a stack of mulch in front of it. On one side is a big planter barrel and the other side has an Alberto Spruce tree. The mulch had been put on the flower beds last spring so the cyclamen had more light this year. I brought it from Vineland. It is a pleasant surprise when the flowers seem to pop up out of the bare ground.
Yesterday was a busy day. Jeannie who lives down the street has recovered from cancer. She used to cook Thursday night dinners for the church but had to stop when she was going through her cancer treatments. She is back now and I helped her with the dinner yesterday. At 9:30, I was at the church peeling potatoes and de-boning chicken. I went back at 3:30 and Jeannie had already cut up the potatoes and had them cooking. She had the stuffing and chicken in the oven and the gravy, green beans and stewed tomatos were in the pots ready to cook. I don't know how Jeannie did all that in a half hour. She was there at 3:00. I took all the little cup cakes out of the plastic container and sliced up the cake for the dessert. I mixed up the lemonade and iced tea. Jeannie's granddaughters and their friends set up the tables and chairs although the kids seem to let the older granddaughter do all the work while they goofed off. I rearranged the chairs as some tables had 2 chairs and some had 10. The dinner was excellent. My other friend, Marlene, who lives down the street, came to do the clean-up. I went home to take Danny out before returning to church for choir practice. I was really beat by then. I could hardly sing.
News from the Vorlon Wife.
Posted by tedkarol at September 16, 2011 6:57 AM