Saturday, September 17, 2011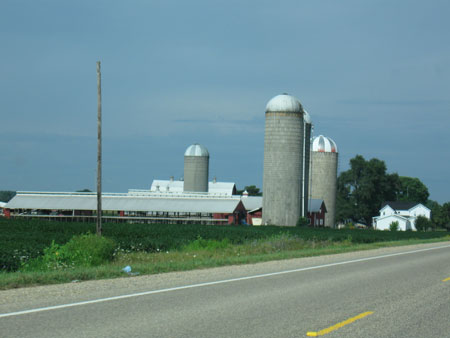 Michigan Barn #25 as we drove along the country roads.
I went to Zumba class this morning and had a good workout. When I got home, I went to work on planting the emerald green aborvities. I first had to dig up and move a hosta lily. I had to dig a hole for it. Then I dug two more holes to plant two of the trees. It was past time to walk Danny so I put my tools away and let the third tree go until tomorrow or the next day. I was too beat to dig another hole.
I just got back from a church sponsored movie night under the stars. I took my lounge chair, sleeping bag, fleese blanket and started out wearing my fleese jacket. After arriving, I put on my wind breaker. After I ate my covered dish dinner, I put on my winter parka and crawled into my sleeping bag with the fleese blanket folded in half and on top of me inside the bag. After a while, I put on a ski cap and settled down to watch "Soul Surfer". It was about the girl who had her arm bitten off by a shark and came back to compete in a surfing contest. It was a good movie and I'm glad I took my sleeping bag and my winter coat. I was toasty warm while the outside of my sleeping bag was wet with dew. It was 52 degrees.
News from the Vorlon Wife.
Posted by tedkarol at September 17, 2011 10:20 PM