Barnstormin'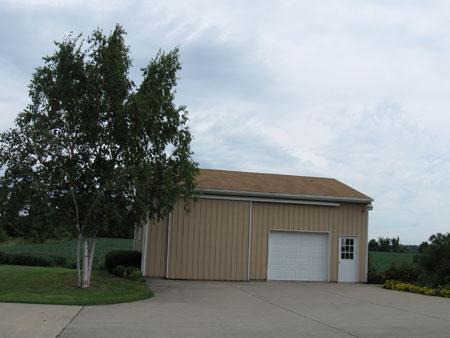 This is Ted's parent's polebarn. Barns are going out of use so these polebarns are used for tractors and other equipement.
This barn is used for the tractor and at one time housed a motor home and boat.
I was busy all day getting ready for my trip. I did battle with more stinkbugs inside my house and squirted some outside while the misquotos ate me up. I also squirted the round-up on the entrance walk but now it is raining and all will have to be re-applied. Was going to cut the grass this afternnoon when it dried out but it rained again.
Dottie came to go over things so she could help Erin move in on Sunday. We grabbed a bite to eat at the Southside Cafe and then I went to Choral Society practice. I was really beat and got lost a few times but so did some others.
Robbie is moving back with his mother tomorrow so he will be able to care for Danny until Erin arrives.
News from the Vorlon Wife.
Posted by tedkarol at September 27, 2011 4:21 PM