Monday, December 10, 2012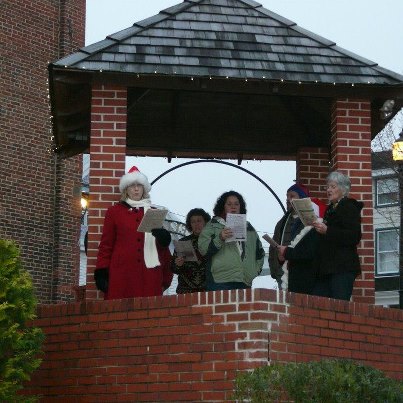 Carolers from the Chesapeake City Ecumenical Association singing in the gazebo at Pell Gardens near the marina. That's me in the red coat and Santa hat. There were about 8 of us. We had a lot of fun. The photo was taken either by my niece or her husband. They brought the baby down to see Santa Claus. Ethan wasn't sure if he liked sitting on Santa's lap. He didn't cry but was about to so Cheryl picked him up. He is 15 months old so doesn't understand who Santa is. Maybe next year.
It was another miserable day today. Rainy with fog. At times the fog was heavy. I didn't go out except to walk down to the mail box and another walk earlier this morning. I had 8/10 of an inch in my rain gauge.
I was going to go to the church to do some filing but the power went out around 10am. I looked on the internet and saw the outage was throughout the region. I heard fire whistles blowing but have no idea what happened. It's a good thing it wasn't cold out. I called Ted's mother and had a nice long chat.
I needed to rest up after a busy weekend. One more concert tomorrow and then singing a partial concert at Chic-fil-A next week. They will be donating the profits to the Choral Society.
News from the Vorlon Wife.
Posted by tedkarol at December 10, 2012 8:29 PM