Steeplechasin'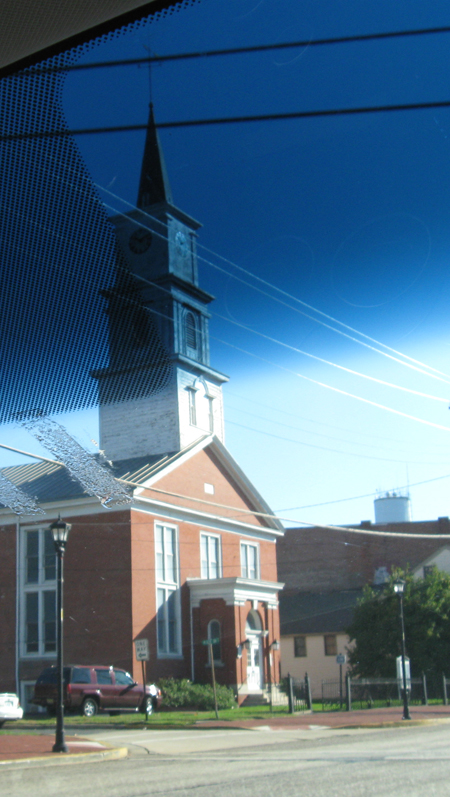 Another church on our lighthouse tour. This one is located on Rt. 49 somewhere between Finn's Point and East Point.
I had a busy time. Yesterday, I sang at the town park at 4pm and then went to sing at the church at 5pm. I should have come home and had some dinner as we didn't start at the church until 6pm. I misunderstood. I thought we were to sing for 15 minutes but we were to sing every 15 minutes from 6 to 9. I was tired and hungry and my voice was giving out. I also didn't want to strain my voice because I had a concert the next day so I went home at 8pm. I took some photos with my phone but haven't figured out how to send them to my computer.
It was fun singing in the park. Cheryl and Ed brought Ethan to see Santa Claus who was at the park. He was in the pavilion and we were in the gazabo at the other end of the park. People came out of the restaurant and shop and the B&B to watch us sing. Our leader had food poisoning and did no make it. We had no music but one lady brought some song sheets she had saved from the local paper. They were all different so we had to hunt through the pages to find the carols. We had no music to accompany us but we had fun and people seem to enjoy it.
It was weird singing at the church as we sang every 15 minutes and it always seemed to be after the people left and we sang to an empty church. After a while, we were able to sing to the jpeople as there were 200 visitors from the Candlelight tour that came into the church. The town has a tour and people come from all over to walk through the town and go into the homes of those participating in the tour. We gave out literature about the church and Chrisdoms that the Sunday School children had made. We also had cookies, hot apple cider, and hot chocolate.
Today, I went to church, sang in the choir, help Ursula by making copies of the checks, went to Sunday School and then went to the Contemporary Service with Cheryl, Ed and Ethan.
When I got home, I changed my clothes for the concert, had some chicken vegetable soup and went to the concert in Cecilton. My cousins, Bob and Jane were there helping serve the refreshments and hosting out Choral Group. It went very well and the church was packed in-spite of the miserable weather - rainy and foggy.
News from the Vorlon Wife.
Posted by tedkarol at December 9, 2012 10:18 PM