Friday Flowerbloggin'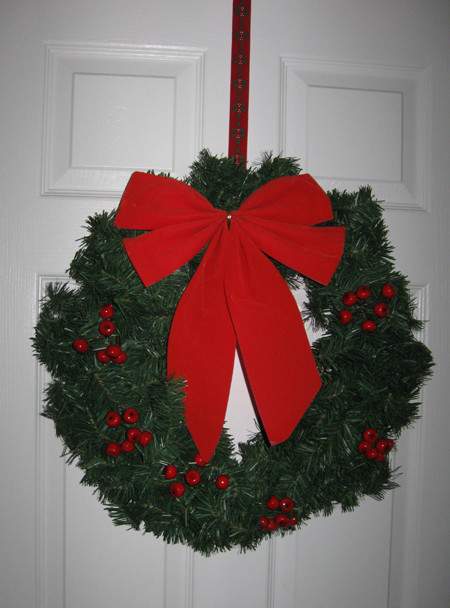 My door wreath. I had two on my French doors in Vineland. I do have French doors here but they are between the bedroom and the computer room.
Ted had a photo of one of the wreaths of the French doors on the computer to sign in but I had it repaired onetime and the sign in was lost. I didn't know how to get it back. Now that computer is kaput.
I did some errands today. I went to Walmart to get the suet cake. They didn't have the $.97 one so I got two that were $1.27. At least they weren't two dollars each. From there, I went to Walgreens to pick up my prescription. I forgot the slippers my niece gave me so I"ll have to go there another day. I went to downtown Elkton to the jewelry store to see if they had a watch band for my watch but they didn't have the right size. I did get a battery for my other watch. It cost ten dollars. I only paid two at the jewelry store in Vineland. I haven't been able to find jewelry stores in the area. When I came out of the store, I saw some other shops that looked interesting. A gift shop and a couple art galleries. The gift shop had some antique items. I saw some green handle utensils and it reminded me of the ones my grandmother had. I felt a sadness come over me and I had to leave the store. One of the art galleries had used books for sale in the back. I got a couple mysteries. The owner was very nice and told me all about her store and events they had there. Elkton has a 1st Friday when they are open at night and had different events going on. She invited me to come. Millville, NJ had a similar event.
Home again, I had some lunch of a hotdog with cheese, mustard, relish and a sandwich slice of a pickle on it. I read more of my book and baked my winter squash in the oven. I had it with my turkey, Brussels sprouts and a baked apple for my dinner. I waited for the mystery to come on and it was one I saw two or three times before. I wish they would get new ones.
News from the Vorlon Wife.
Posted by tedkarol at December 28, 2012 9:51 PM