Saturday, December 29, 2012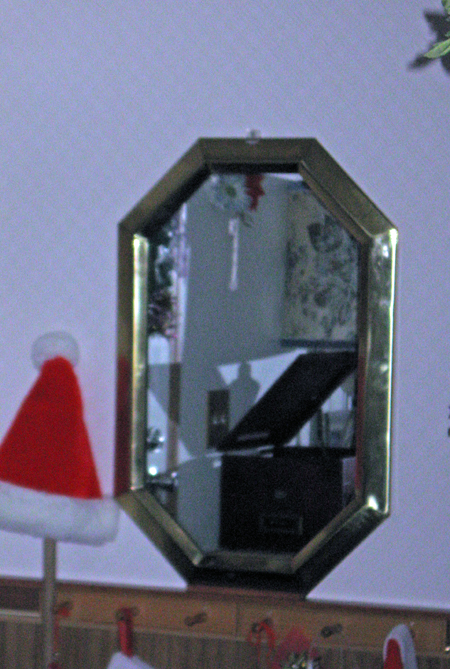 I finally got my mirror installed this morning. It took me two years to get it done. First, I had to figure out how to attach it to the thin walls here as it is a heavy brass mirror. I had to get some lumber and stain to make a shelf to support the weight of the mirror. I had to wait for some good weather to stain it and then didn't like it so had to buy some more stain and wait for good weather to apply the new stain. Then I had to polyurethane it and had to wait for good weather to do that. Then I had to keep hunting around for some hardware to attach it at the top. I finally found a mirror clasp at Walmart the other day. I did some drilling and screwed the mirror onto the wall where the stud it. I screwed a little molding at the bottom of the mirror so it wouldn't fall off the shelf. I had a couple wooden peg coat hangers that I used to hold Danny's leash and things so I screwed it to the bottom of the shelf. I hung the Christmas stockings on them.
I took the photo at an angle from across the room so the flash would be seen in the mirror. We didn't mount the mirror in Vineland but placed it on top of the fireplace mantle. It was made of cast concrete so it was able to support the weight.
I made up a few snack bags and took to the soup kitchen. I didn't have much but added them to what others brought. I helped serve the soup. There were six crockpot of soup for the homeless people. There were a couple vegetable beef, a couple chicken vegetable, a fish chowder, and a chicken succotash soup. I had the vegetable beef and fish chowder. I had a taste of the chicken succotash. It was good I should have gotten that instead of the beef vegetable as it was a little too peppery for me.
We got about an inch of snow but it is melting. None stuck to the roads. It was forecast to snow until Monday but it has cleared off. We'll see.
I got a movie at the Library to watch over the weekend. It has been the loneliest holiday I have ever had in my life. Things keep reminding me of holidays I had with my husband, parents, and grandmother. And even Danny. I ran into my neighbor, Rex and his little dog Barley. Rex didn't know about Danny and Barley kept sniffing me as if he was wondering where Danny was. I hadn't seen Rex as I hadn't walked that way very much. I have to cut across the wet grass. The weather has been nasty. Either rainy or cold. Rex sits out on his deck in good weather and he hasn't been out. Today, I happened by as he was walking Barley. Barley looks like a Cairn Terrier. He is real cute.
News from the Vorlon Wife.
Posted by tedkarol at December 29, 2012 4:13 PM