Friday Flowerbloggin'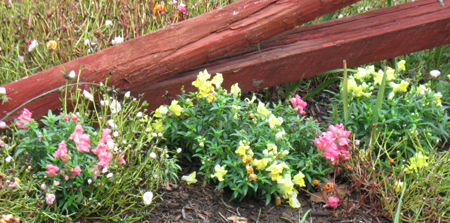 I took this photo in November but the snap dragons still have green leaves and foliage. I saw some crocus leaves coming up; they are about two inches tall. They weather has been mild but it is still damp and chilly.
I went to Elkton today. I needed to get a birthday gift for a little girl. I thought I'd get a book from the Art Store but they were closed for inventory. I went to K-Mart and the books seemed to all be fro boys. I didn't want to get a toy since Christmas had just past. I saw a cute little jewelry box with a ballerina that spins around while the music plays. I thought she might like that.
I went into the dollar store and got some things and then to the Acme for some milk and butter.
I worked some more on my puzzle. It is a hard one and just when I feel discouraged, I find the piece I had been searching for. I still have a lot to do. I put a couple photos of my great aunt's farm into the new frames I bought. I need to hang them up. I wonder if I can trust the commando hooks? I'd hate to have them fall off the wall.
News from the Vorlon Wife.l

Posted by tedkarol at January 11, 2013 9:59 PM