Sunday, June 29, 2008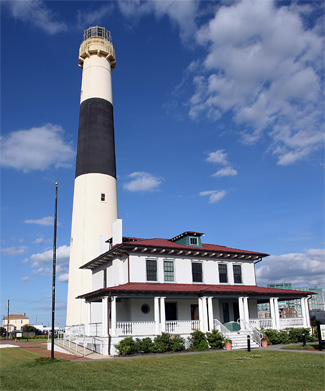 Don and I went to Atlantic City yesterday. We climbed up Absecon Light. It is the tallest lighthouse in New Jersey. We were huffing and puffing most of the way up. What great exercise it would be to climb up the lighthouse everyday or a couple times a day as the volunteers do.
It was cool and breezy at the top with a spectacular view of Absecon Island. When we descended to the bottom, we went to the boardwalk. It was in the 90degrees yesterday and the boardwalk was hot. We walked along the boardwalk visiting Steel Pier and the new Mall at Caesar's. Steel Pier was a disappointment. It had an amusement park with rides mostly geared for children. The Mall went out over the ocean and was filled with expensive shops. We made our way back to The Taj Mahal and had dinner at the Hard Rock Cafe. It was crowded due to Ringo's performance that night. We had to wait at the bar for about a half hour until our table was ready. I was hot so I ordered an ice tea. Don had a drink and it was $10.90 for the two drinks. The music was turned up entirely too loud. Don had been to other Hard Rock Cafes and the music was not that loud. I don't know how the waiter could hear what we ordered. I'm not into hard rock; I like soft rock. We went back out to the boardwalk for another stroll before we had to go to the show. It was still warm out. They let us into the Arena about 7pm. It was freezing in there with the air-conditioning. I'm glad I brought a long sleeve shirt.
It is interesting to watch the people. An announcement was made that taking pictures was expressly prohibited. Not many people paid attention. Flashes were going off all over the place including a lady sitting next to Don. The flash would catch the corner of my eye and I had to resist a strong urge to grab the camera and snap a few hundred shot in her face. A lady in front of Don, bobbed her head back and forth to the beat of the music for two hours. She looked like a bobble head. The lady next to me rocked back and forth the whole time and rocked the entire row. I almost felt seasick.
Ringo gave an outstanding performance and is quite the entertainer. He sang some of his new album as well as a couple old favorites like "Yellow Submarine". He had a team of all stars with him, gave them introductions, and told of their accomplishments. They had been top musicians performing with stars such as Aretha Franklin. You don't hear too much about the musicians in other groups who are not the main star. Each had a few numbers and solos that they performed last night. The All Stars work together touring for the summer.
After the show, we went back to the boardwalk for an ice cream before heading home. It took us an hour to get off the island as all the people from the show were leaving at the same time as well as people from other Casinos. I was pretty tired out and didn't get to bed until about 1am. Danny had spent the night at Erica's. I picked him up this morning. Erica had her colt, Kenny attacked by the coyote. He is about a year old. The coyote bit his neck. He is OK but the coyotes are a real worry. They must be pretty hungry to go after horses. They must have eaten the small game, as there were lots of rabbits and turkeys on the ranch.
Many thanks to Carl who used to work with Ted and me at Eastern Business. Carl was in Vineland with his family for a couple weeks. He took time out of his vacation to help me with some concerns I had with my computers. The one computer was backing up just fine but this one was not. He was able to diagnose the problem and fix it. He also arranged so the network back up will back up my photos so I won't have to worry about losing them. I had some materials from Eastern Business that I thought Carl could use so we went to the storage bin and he took what he needed. He does work for Ted's former clients who need customized software.
News from the Vorlon Wife.

Posted by tedkarol on 06/29/08 6:46 PM |
Link
|
Enter your comments here (0)