Monday, February 27, 2012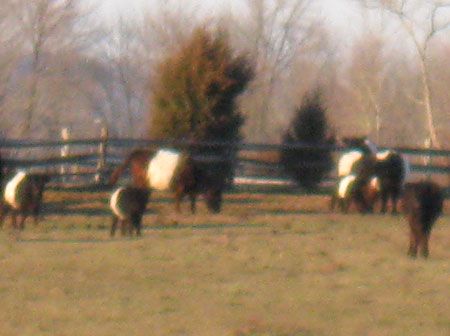 These are Galway Cows. They are a Dutch breed and have another name that is Dutch. They are also called Oreo Cookie Cows. Notice the white middle between the black front and black back. Athough, one of the cows looks brown in the sun. The farm is across the road from the Town Point Church where I go for my Yoga class. Town Point is owned by the Trinty Methodist Church. It had to combine services with us because of lack of finances to support two churches.
I made some chicken soup today from scratch. Erin has come down with a cold so I thought it would be good for her. It turned out really good. We both enjoyed it. Brian, my contractor, took the steps apart that were on the back of the house and we carried them around to the front where he reassembled them. Now I have a landing that is almost twice as big as I had before. I will be able to put a chair out there and do some bird watching on the east side in the early morning.
I went to K-Mart this afternoon. I got some more landscaping lights that were on sale. Now that I have two walkways, I need to light them both and have some for the back. I also did some food shopping at the Shop Rite. I got some aspargus for $1.69lb, brocoli for $.99lb and some other items that I needed.
I had some more soup for dinner and now it is time for tea and relaxation.
News from the Vorlon Wife.
Posted by tedkarol on 02/27/12 7:17 PM |
Link
|
Enter your comments here (0)