Friday Flower Bloggin"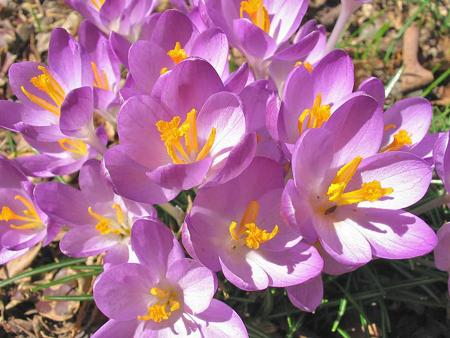 Crocuces and snowdrops are the only things blooming so far and they are sparse. Something must be polenating in the area because the spring hayfever is starting. It starts when the crocuses bloom. It's most like witch hazel even tho I haven't seen any my nose knows it's here.
I went to my Zumba lesson this morning and I baked a pie in the afternoon. The church is having a Ham and Cabbage Dinner tomorrow and I was asked to bring a dessert. I haven't made anything since Ted's passing. Being alone, I would have to eat the whole thing. I guess I could eat a whole pie in a couple days. I baked an apple pie that Marie Callender made. They are quite good. It had a package of caramel sauce to drip over it. I guess I put it on too thick as the whole top is covered with it. My brother bakes them so I figured I could.
I did a few things around the yard. I bought some bright yellow pinwheels and put them at the edge of my flowerbed hoping the cars would see them and not park or drive over it.
I dug up some snowdrops that were growing in the grass outside of one of the flowerbeds. I have wanted to do that for a couple years. I wanted to wait until fall but by then, they either disappeared or were run over by the mower. I dug up large clumps of dirt with them so I hope they will be OK.
I scraped up some stones the snowplow had scraped up and put them in front of my driveway. I'll have to buy some more and put them along there and around the perimeter of the house.
News from the Vorlon Wife.
Posted by tedkarol on 03/15/14 7:38 AM |
Link
|
Enter your comments here (1)