Monday, May 26, 2014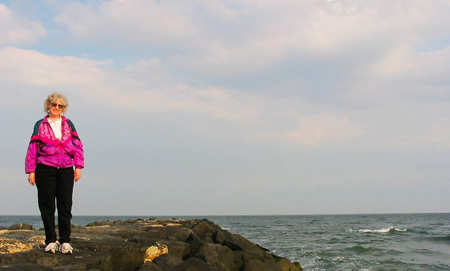 This photo was taken by Ted on May 28, 2005. We were in Ocean City, NJ where we went almost every Saturday from May to October. On holiday weekends, we sometimes went on Sunday. We would walk along the beach and boardwalk. Ted like taking photos with his new digital camera and posting them to his blog. We would have dinner at one of our favorite places along the boardwalk. We liked the Hawaiian Grill and The Beach Club. The Beach Club had ocean side dinning where we could look out over the water. The Hawaiian Grill was back on a little intersection of the boardwalk with no view but a hotel. The food, however, was excellent and reasonable. The owners were from Hawaii and specialized in Hawaiian cuisine.

I went for a drive to find my 3rd great grandfather's grave and put a flag or flowers on the grave. I looked up the directions on the internet but was not sure I was in the right place. The directions took me to a gravel road that curved back past peoples houses and ended in someone's driveway. I did not see any sign of a cemetery and saw no one to ask. I turned around and left. I did see a big rock on someone's lawn. It was a rock, not a monument and I didn't feel comfortable walking across someones lawn to look at the rock.
I went back to an intersection that said "Brick Meeting House Road." His Inn was supposed to be on that road where it intersects Cross Keys Road. I did see a colonial period house there but it was a private residence and had no sign except for the address. It was near the Brick Meeting House (Quaker Meeting House) from the same time period and is still in use by the "Friends."
I took a picture with my phone and came on home. It is hot today. I had some lunch and put on a movie, The Lone Ranger with Johnny Depp. It was good but I felt too much violence for a Disney movie. Walt would be turning in his grave.
Sparky is zonked out from his walk. It is 87 in the shade and 90 in the sun. The air went on about 1pm and feels good after coming in from outside.
News from the Vorlon Wife.

Posted by tedkarol on 05/26/14 3:38 PM |
Link
|
Enter your comments here (0)