Friday Flower Bloggin'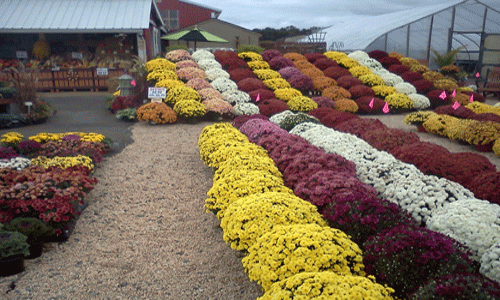 Beautiful mums and asters at the local Amish Market. Photo taken last year.
Posted by tedkarol on 10/09/15 6:30 AM |
Link
|
Enter your comments here (0)

Friday, October 9, 2015
I haven't blogged for a while. I used to do it at night but I am too tired at night so I started doing it in the morning but sometimes, I get too busy or I have to take the dog out. I don't seem to be able to keep up with all that has to be done. I guess I'll have to hire someone to help with the cleaning. I have someone to do the yard work. This getting old is the pits.
I have two big projects to do. One is to go though and clean out this office and the other is to do the same with the shed.
I have a busy weekend ahead. Tomorrow is my brother's 50th Anniversary and Sunday, I go with my other brother to see the Zombies. I'll stay overnight there and go to my cousin's funeral on Monday. Louise has been in a nursing home for a few years. I wanted to visit her but never seemed to get there. The Presbyterian Home is near the cemetery where Ted and my parents are buried. I thought I could go to see Louise after visiting the cemetery but I went with my brothers and they had other plans.
I'd better get something on so I'll be ready when Sparky gets up. I have to get him to the groomers. I think it's safe now. There was a highly contagious respiratory infection going around. The vet sent an email about it. He was having 20 cases a day and the last I heard it was down to 5 cases. I better look it up to see if it has run its course. Dogs can get it at dog parks, groomers and even the vet office or around the neighborhood where dogs are walked.
News from the Vorlon Wife.
Posted by tedkarol on 10/09/15 6:06 AM |
Link
|
Enter your comments here (0)