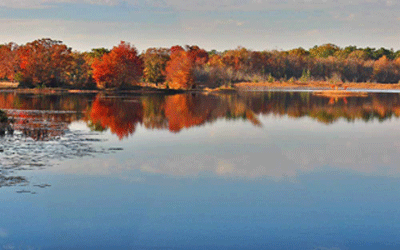 Ted took this photo a lake on route 49, south of Millville, NJ in November of 2005. It's hard to believe it was 10 years ago. It was around the time he was diagnosed with cancer. He enjoyed taking photographs with his camera. We would either walk around Vineland or take a drive to take photos of the fall foliage or photos of the ocean.
I finally had my asthma test yesterday and tested positive for asthma. I don't know if there are degrees of asthma as it took until the end of the test for it to show up. I went through a lot of tests on my heart to see if that was the problem but my heart is in excellent condition. I don't know what the next step will be. I guess the doctor will call me on Friday and let me know.
Last night, I went to the Ecumenical Thanksgiving Service at the Bohemian Wesleyan Church. Four of us from our choir sang "Come Ye Thankful People Come." We were supposed to sing "We Gather Together" but it wasn't in their Hymnal. We did it on the fly with no accompaniment. Somehow, it came out OK. I wish we could have some practice before singing for events like this. I don't know who was responsible for organizing this.
The Wesleyan Church has a new pastor, Shane Dickinson. He was an excellent speaker and is a wonderful addition to our Ecumenical Association. They had a nice fellowship afterwards with lots of homemade cookies and cakes.
I got the Christmas lights on my two little trees and my neighbor, Juan hung my Star of Bethlehem on the peak of my house. I was going to run the extension cords and timers yesterday but fell asleep after lunch. I guess that test took a lot out of me. Anyway, I was too tired and it was too cold to do it. I'll do it this morning after I make my Waldorf Salad. I like to see the lights when I come home after Thanksgiving Dinner. I also like the candles in the windows but I forgot to set the timers. Now, I won't be able to do that until Friday night. I hope I don't forget. I have to line them up on the counter and turn them on at the time I want them to go on and then they automatically go on at that time for 5 hours. They have new batteries and are lined up on the counter ready to go.
News from the Vorlon Wife.
Posted by tedkarol on 11/26/15 5:16 AM |
Link
|
Enter your comments here (0)