Friday Flower Blogging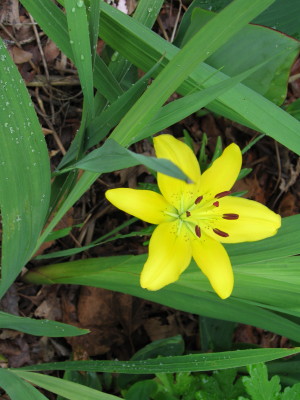 I planted this yellow lily at the mobile home last week. I hope it will go as lovely as it did in Vineland. I went to the library and got a DVD for tonight. I also went to the bank to open an account here. It took awhile and it was time to have some lunch and walk Danny. He is one spoiled little dog. He just wants to sit on my lap all the time. I put a pillow on my lap so he can curl up when I'm on the computer.
I was going to go back out after lunch into Elkton but there were still restrictions on the bridge. It was probably for trailers but that bridge is scary anyway so I decided to stay home. The gas man came to fill the tank. He said the one gauge is stuck but the other gauge shows what they both have in them. The stuck gauge is too old to be replaced easily. He had recommended replacing the tanks but they are probably pinching pennies. They have been recertified.
It is nasty and cold outside. It is drizzly but not raining hard. The coastal areas are being hit hard. A lot of the shore areas in NJ and DE have the roads closed. I hope it clears up tomorrow. I had better take Danny out now before it gets dark as it is almost dark now.
News from the Vorlon Wife.

Posted by tedkarol at November 13, 2009 4:07 PM