Steeplechasin'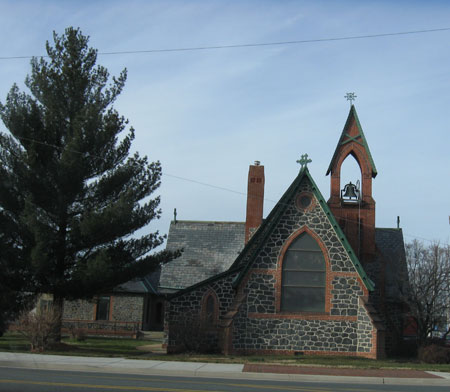 The Episcopal Church in Elkton.
Yesterday, we woke up to snow on the ground. We got about 2 1/2 inches but it changed to sleet and rain so packed down and iced over. Danny had trouble walking in it as his paws would brake through the thin ice coating over the snow. He kept sniffing at it wondering why he was having such a difficult time. I led him to the side walk I had shoveled off but he returned to the yard and his problems walking on the snow. I got him some dog booties but didn't figure he'd need them to walk on the sidewalk. He didn't get any ice packed in his paws anyway.
Zumba class was canceled in the morning but we went to the Zumbathon in the afternoon. It was a two hour session as a fundraiser for the highschool. I took some photos and Erin is doing an article on it for the local newspaper. She got a volunteer job as a correspondent for Chesapeake City.
We stopped at the Library on the way home. Marianna, the Librarian, is a good source of local history and knowledgeable of the local community. Erin spoke with her while I looked for some movies to watch for last night. Saturday night seems to have nothing worthwhile on TV. I found "Nights in Rodanth", and "Northanger Abbey" for last night and two DVD's of Masterpiece Classics: " Midsummer Murders." The latter two are not due for three weeks so we can watch them later.
It turned cold so the snow is still on the trees. Maryland does a good job with their roads but our developement does not. It gets plowed with the tire tracks as the cars drive over it. I guess if it's over 3 or 4 inches it will get plowed.
News from the Vorlon Wife.
Posted by tedkarol at January 22, 2012 6:13 AM