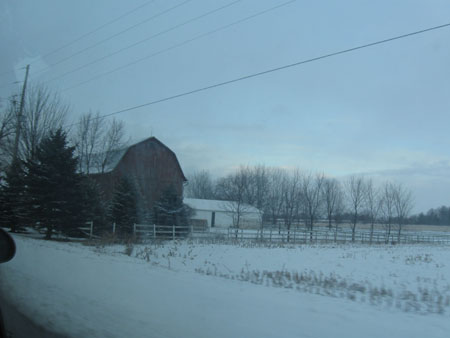 Michigan winter barn #7 taken last January in or near Lake Odessa.
I returned my DVD's to the library this morning and went to the bank. The work was started on laying out the sidewalk to the back door. The concrete will be poured on Thursday and when it hardens, the deck will be built. Tomorrow, I have to dig up some bulbs and a hosta lily to make way for the concrete and deck.
I went to the Food Lion Supermarket in Middletown, DE this afternoon to get some groceries. They had Chuck Roast on sale for $2.99/lb. I'll be making pot roast tomorrow. They also had a pork roast on sale. I'll cut that one in half and freeze it.
I had Yoga class this evening then came home and had some dinner of ham, baked beans and carrots. I had some chocolate covered crackers for dessert. The crackers were a fund raiser for the Choral Society. I watched a Perry Mason movie tonight and now it's time to hit the hay.
News from the Vorlon Wife.
Posted by tedkarol at January 23, 2012 9:46 PM