Steeplechasin'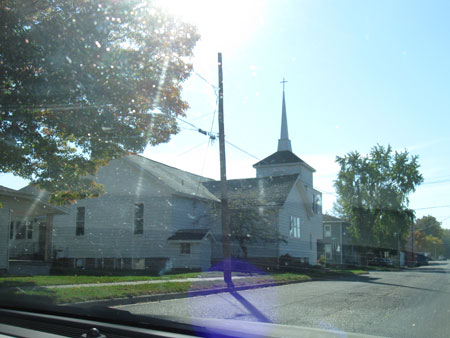 Church of the Nazarene, Lowell, MI.
Yesterday, Erin and I went to Zumba class. We had a good workout. When we got back, I did some wash and hung the sheets out on the line. It was windy so I figured they'd dry fast if they didn't end up blowing off and ending up in the trees. We decided to go to the Applebutter Festival. So I goolged a map and we drove off. The Festival was interesting. There were two of them. One at the Fairgrounds and the other at an old villiage preservation. The houses were buitl during colonial times but had been abandoned for years and one was completely in a state of ruin. I wish I had brought my camera. The applebutter was made in giant copper pots on an open fire. It took ten hours to cook. I thought applebutter was Pennsylvania Dutch and some people looked Amish or Menonite but they had Scottish Bagpipers there and Scottish food was advertised but I didn't see any or I didn't know what it was. There were hot dogs and chilli but I saw a big fat apple dumpling and wanted opted to have that for lunch. Erin got the sausage roll. We both got apple cider. The apple dumpling was delicious. We went into one of the old houses where an artist had her paintings and drawlings on display. I noticed the name McKeown and asked if she were related to my friend, Joan. The husband said Joan was his cousin or rather her husband was. I also noticed the artist had a drawing of the Brick Meeting House. My grandmother on my father's side was born at Brick Meeting House so I bought the drawing. Brick Meeting House was a colonial town or place. One of my ancestor's was a captain in the Revolutionary War and was George Washington's taylor. When I got home, I googled him and found a message on Geneology Formum that a man at church was also descended from my ancestor. At least it was someone with the same name. I'll ask him when I get to church this morning. I may have found a long lost cousin.
We were beat when we got home. I did some more laundry and got some dinner ready for us.
News from the Vorlon Wife.
Posted by tedkarol on 10/16/11 6:08 AM |
Link
|
Enter your comments here (0)