Friday Flowerbloggin'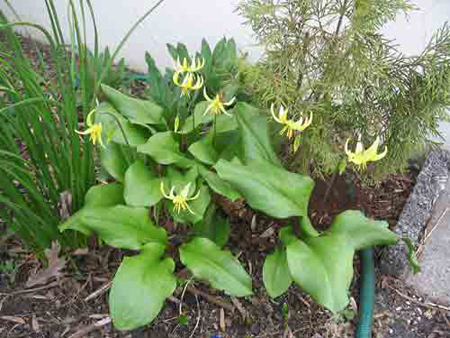 My dogtooth violet is blooming. This photo was taken in Vineland in March 2010.
I've had a busy time. Tuesday afternoon, I went to my brother's so I could go to his Dr. visit with him early Wednesday morning. Sparky did OK but I have to watch him because he gets into everything and is curious about everything. I put him in his cage while we went to the Dr.'s. I have mixed feelings about the doctor's report. Don had a polyp removed last Nov. but it had to be scraped off and not all of it could be removed. He needs to get another colonoscopy to see if it had grown. I hope and pray that it has not because if it has, Don will need more surgery for another resection. While I was at Don's, I talked to my friend, Sylvia across the street. She said her sister who has been my good friend since early childhood, has cancer. It is a slow growing cancer but not operable and will require chemo treatment. Carol is in my prayers.
Yesterday, I did some weeding along the walk on the west side. It will still need more weeding. I tried to hire a kid who has asked for work but she did seem to be interested in weeding. I think she wants to cut the grass but I feel she is too young to run the mower and I don't want kids doing that.
I called the propane company and I have to wait until my gas gets down to 5% before I can change companies. I have 30% and have raised my thermos stat so I could use it up. The new company charges a dollar less per gallon. The old company also charges $40.00 service charge to remove the tanks. What a bummer.
After dinner, I went to choir practice. My friend, Tina was there and she gave me a quart of her homemade vegetable beef soup and a corn muffin. I will have it for lunch today.
I did the red load of wash today and hung it up in my shower as it is raining. I put an extra shower curtain in the middle of my shower so I could hang clothes there. I vacuumed the living room and ran the sweeper in the kitchen, hallway and laundry room.
News from the Vorlon Wife.

Posted by tedkarol on 04/19/13 11:10 AM |
Link
|
Enter your comments here (0)