Friday Flower Bloggin'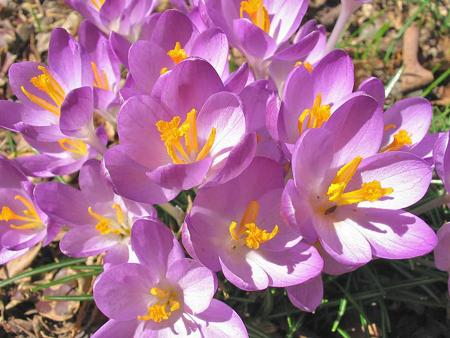 No they are not out yet but can't wait. This photo was taken by Ted in March of 2006.
Friday, January 10, 2014
I awoke to an ice covered deck and icy roads. I decided to go out the front door to walk Sparky. I threw some "Paws" ice melter on the steps and landing and went out on the grass. I walked along the edge of my neighbors lawns. It was raining and freezing on the walks and roadway. Eventually, it warmed up and melted. I spent the day reading and putting Christmas stuff away.
I gave Sparky his bath in the late afternoon, after his walk. He hates being dried off and is afraid of the hair dryer. I cover the bed with towels so he can roll around. I chase him around the bed with the hair dryer but the cord is not long enough to reach across the king size bed. I decided to turn the heat up so he wouldn't be cold with his wet fur. The thermostat said "low battery". I didn't even realize it had batteries. I took off what I believed was the battery cover and the batteries were all corroded. I took them out and the terminals were all corroded. The negative side of the terminals fell out on the floor. I stuck it back in with new batteries but the screen went haywire blinking nonsense. I figured no thermostat, no heat. It was 5:15 and the heating company was closed.
I called my niece's husband, Ed. When I described what happened, he figured the corrosion fell down in the unit and ruined it. He said to go to Home Depot and get one just like it then call him when I got back. He had to wait until Cheryl got home to watch their son who was sick.
When I got to Home Depot, they didn't have any that were anything like the ruined one. I called Ed and we decided to get one that was the same brand and hopefully, it would connect in the same way. They ranged in price from $19.99 to $99.99. I decided on the cheapest one because the electric company will put one in and give a discount on the electric bill each month.
I called Ed when I got home and he said Cheryl wasn't home from work yet but would be over when she got home. Ed was able to put the new thermostat in but it needed AAA batteries and of course, I didn't have any. I had to run out to Redner's Supermarket, the closest place that had batteries, to get them. Ed put them in, programmed it and got the heat running. It stayed warm in the kitchen because I was running the dishwasher. He turned the temp up to make sure the heater was working. I was so grateful to Ed for helping me. Otherwise, I'd have to go to my brother's and wait until I got an appointment for the heater man to come out.
Cheryl and Ed have a big dog and we don't know if the two dogs would get along so I wouldn't be able to stay there. I could go to my nephew, Rick's but the children leave the doors and gates open and Sparky could get out. They don't actually leave the doors open but just long enough for Sparky to get out. Neighbor children are always coming in and out.
I'm glad it wasn't one of those zero degree days.
News from the Vorlon Wife.
Posted by tedkarol on 01/11/14 9:35 AM |
Link
|
Enter your comments here (1)